Gloves
Gloves are an indispensable piece of equipment when mountain biking. Not only will they protect your hands from injury, but they can also strengthen gripping on handlebars and keep them warm in cooler temperatures. While there are hundreds of gloves to choose from when selecting one pair for yourself, here are a few other considerations when making your selection:
The key element in selecting gloves that provide optimal fitting is making sure they fit as intended. Otherwise, too big of gloves could bunch up and chafe your fingers, decreasing control on the bar; too tight would limit movement and discomfort.
For freeride or gravity mountain biking, opt for thicker gloves designed with abrasion resistance in mind. For example, the Giro DVD mountain bike gloves feature two millimeters of crash padding on three knuckles as well as synthetic suede palms and reinforced fingertips to resist abrasion.
Outfit
Mountain biking requires proper clothing and protection to maximize comfort, performance and safety. First and foremost you need to wear baggy durable shorts for mountain biking which offer good support and protection. Next is a padded inner short called 'chamois' which sits underneath your jersey to offer additional cushioning in case of falls.
When riding in cooler conditions, wear a long-sleeved flannel specifically designed for cycling made of fabrics that wick away moisture, keep you warm, are odor-resistant, stretch and provide movement when riding. When reaching for handlebars make sure the sleeves have extra length so they stay put when reaching out - look out for ones with shoulder yoke gussets or an articulating construction to allow it to move with you instead of remaining static and creating discomfort during rides.
Although some MTB flannel shirts are unisex, cycling-specific versions tend to be superior as they're tailored specifically to cyclists' bodies and offer features more useful when out riding, such as underarm venting for sweat management and stronger buttons and snaps.
Sunglasses
Sunglasses are often overlooked pieces of equipment that can have a dramatic impact on a ride. According to https://americanhiking.org/resources/10essentials/, not only can they protect against UV rays from the sun's harmful rays but they can also keep dust and debris out of your eyes when riding.
Opting for appropriate lenses is equally recommended. Selecting lenses that help you see ahead can allow you to anticipate tree roots or ditches which might catch your wheel; furthermore they help identify potential dangers hiding within the foliage.
Lens color should also be taken into account. Black or gray lenses shouldn't be worn when mountain biking as they do nothing to aid clarity, depth perception or glare reduction. On the other hand, brown or amber tinted lenses make a good choice in sunny mountain bike rides as this filter out blue light waves while increasing contrast and depth perception while simultaneously decreasing glare.
Knee Pads
Knee pads are an essential piece of mountain bike equipment for all riders - be they casual trail riders, all-mountain racers or enduro racers. Even minor crashes on rugged and steep trails can leave serious cuts behind if they crash hard enough; injuries to one of your most vital joints could keep you off your bike for weeks or months, forcing you to stop pushing yourself as soon as you recover from any potential crashes.
The ideal knee pads provide serious protection without restricting pedaling performance. They will typically feature a hard plastic shell atop your kneecap with soft foam padding inside for comfort against your skin, while also covering an extensive area to avoid your kneecap crashing against pedals or frames of bikes.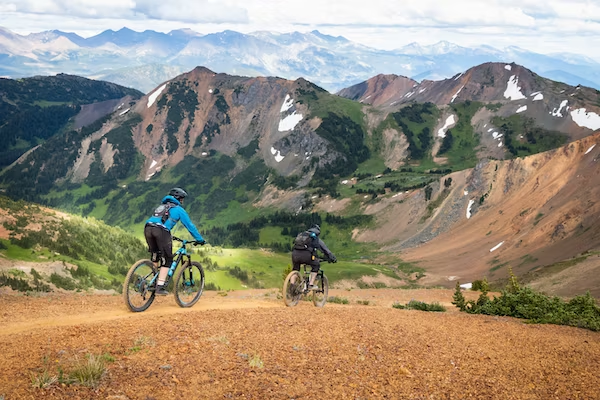 First Aid Kit
If you plan to be out on the trails for an extended period, it is wise to bring along a first aid kit as part of a safety precaution. This is particularly integral for beginner mountain bikers, who may not yet understand all of its associated risks.
A comprehensive first aid kit like these should contain everything a mountain biker may encounter during an injury, from cuts and scrapes to head injuries. Cleaning wounds as soon as possible to avoid infection is also crucial; water or alcohol wipes should do just the trick for this task. In addition, gauze pads and medical tape may come in handy; latter used on wounds too large to treat with just band-aids alone.
Last but not least, it is crucial that you carry with you an emergency repair/tool kit in case something happens to your bike while out and about. A quality kit should include tire levers, pumps/CO2, multi-tool and spare tubes - lightweight and compact in size for easy transport. While premade first aid kits for mountain biking exist for sale, creating your own can provide greater customization to suit individual needs.