Thus, there is currently a very high demand for high-quality beverage products in the market.
Since the industry is still relatively undeveloped and people constantly want to try out something new, many people nowadays have started creating their own beverage companies to match the user demand. If you, too, are curious about how to start a beverage company, then don't worry because we have you covered.
In this article, we will tell you exactly how you can start your own beverage company and what factors you need to consider while you are doing so. We recommend that you read the article till the end to get a deep understanding of the various concepts.
Understand your product.
Before you even pitch your product to your investors or the masses, it is crucial that you yourself fully understand it first. We are not talking about having a basic idea of your product but rather knowing all the essential factors about your vision and having a thought process in mind to ensure them.
Firstly, you should start with comprehending what type of beverage you would be making. Is it an energy drink or a soft drink? Does it have alcohol, or is it juice? Ask yourself these questions to arrive at what your beverage is actually going to be. After that, understand which audience would prefer your beverage the most.
For example, if you have alcohol in your beverage, it would mean that your target audience would be adults. On the other hand, if you are making juice out of fruits, your target audience would be either people into fitness or children who need nutrients. When you discover your target audience, you can design your marketing plan to accommodate their needs.
Select and test optimal recipes.
Source: Unsplash
When you are choosing the ingredients of your beverage, it is essential that you select the ingredients that will help you keep the cost of the beverage down. Choosing the best ingredients from international markets might drastically increase the quality of your beverage, but it would also force you to hike up your end product's value.
Since the beverage market is mainly targeted at the average individual, the chances of them buying a high-end beverage at exorbitant prices are very low. Consider all the aspects of your ingredients, such as how you are going to import them, where you will be getting your fresh produce from and whether you will have to pay international taxes while importing ingredients internationally.
With the perfect ingredients at hand, you need to craft an equally ideal recipe for your beverage. This process can, and should, take some time, so be patient. Try to perfect your recipe as much as possible and when you are confident that it fulfills your own requirements, take it out for testing wherever you can. Use the feedback you get to improve your recipe or start with the manufacturing process directly.
Create a business strategy.
A good company always has a business strategy in hand that they use to ensure success and growth for their products and services. Similarly, before you even think of starting with your beverage production line, you need to ensure that you have a reliable business strategy in place that considers all the essential aspects of running a beverage business.
Your business strategy should include how you are going to sell your product, what marketing analysis needs to be done, operation plans, and adequate product analysis to ensure maximum quality. Your business strategy should give you a fair idea of where you will find your business in the next few years if the strategy becomes successful and what fail-safe methods you have in mind in case it doesn't.
Your business plan should also include the costs you will incur for renting a plastic or glass bottle manufacturer for your business that will provide the packaging solutions for your beverages.
Create your beverage's design.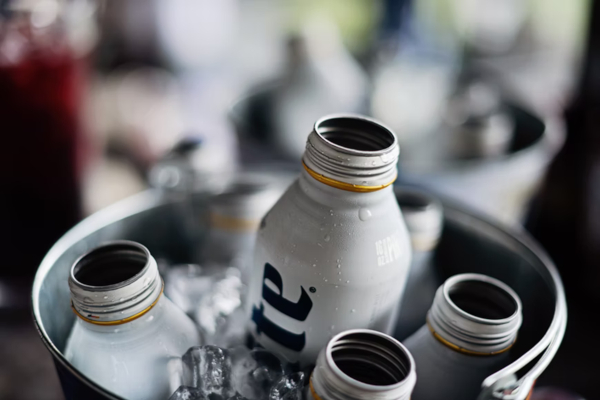 Source: Unsplash
Since your first customers won't know what your beverage tastes like, you will solely rely on your product's visual design to attract your customers. In today's highly competitive world, it is necessary that you create the most optimal visual container design for your beverage that will attract your customers and encourage them to buy more of your products.
Your first step as a beverage company should be to ensure an optimal design for your beverage containers. Don't cater to the average standard of containers that every other beverage company uses on the market - take risks and be unique. The more creative your design is, the more chances it has to catch a customer's eye and thus the more chances they will try it out.
Understand your finances and manufacturing needs.
Starting a beverage company is not an easy task, especially when considering the financial aspects of starting a business and hiring manufacturers to supply raw materials. It is crucial that you understand your business costs and come up with a financial plan that can help you cover these costs.
Find out investors who might be interested in investing in your business and talk with various people who would like to be your company's shareholders. Also, understand how much money you yourself would need to invest in your business before it becomes successful and gives you tremendous returns.
Conclusion.
There are various factors you need to consider before you think of starting your own beverage company. It is not easy to create your own company at the start, but if you do everything right and stay persistent with your efforts, you will soon have a beverage corporation that you can call your own. We hope this article helped you in your efforts and if it did, please consider following our website for regular updates as it will help us immensely.