Some focus on custom yachts, others on semi-custom or production, or some all three. When it comes to larger, bespoke superyachts, yards such as Lurssen, Feadship and Nobiskrug tend to come to mind as the best of the best. But, there are a number of US shipyards paving the way for excellence when it comes to custom, semi-custom and production superyachts.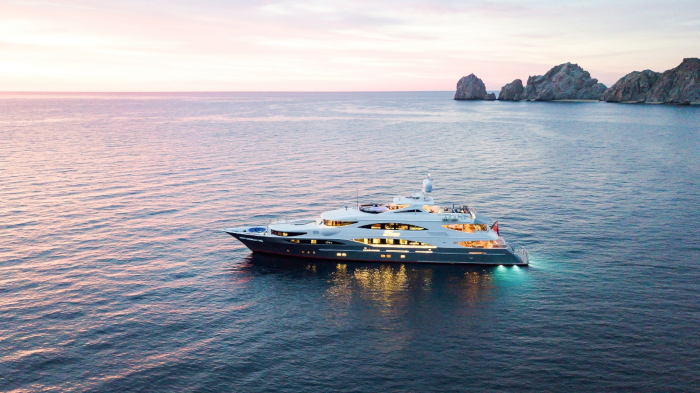 Trinity superyachts
For example, US shipyard Trinity is known as one of the elite custom superyacht builders. The yard was founded in 1988 and specialized in offering custom, all-aluminum yachts. Building more than 25% of all yachts constructed in the US, the yard delivered on average three yachts per year before Harvey Gulf purchased it in 2016. Not only are their yachts utterly unique, luxurious and built to the highest standard, they also have retained their value.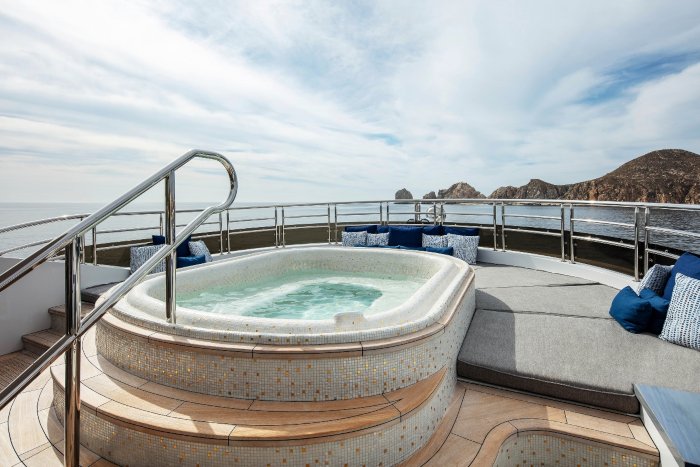 motor yacht Tsumat
On average Trinity superyachts resell at a value of $29,000 per GT. This is substantially more than that of a potential European counterpart, like Benetti for example. Although the Italian yard has delivered seven yachts per year on average, Benetti yachts have a lower average resell value of $18,000 per GT in comparison. Another US shipyard with a stellar reputation is Westport. Established in 1964, Westport Yachts is known for building leasing semi-custom and custom yachts. Selling five yachts per year on average, Westport yachts retain a resell value of $25,500 per GT, underlining the exceptional value, quality and craftsmanship of US superyachts. One of the most explementary models on the market today, which truly reflects the superior American yacht quality is the 49.m motor yacht Tsumat.
Launched by Trinity Yachts in 2012, she is an all-aluminium, semi-displacement Trinity 164. Her name is derived from an ancient Mexican indigenous dialect and means beautiful princess or girl. A fitting name for this yacht, as she features a sleek exterior design by Geoff Van Aller. Her airy and contemporary interiors, designed to create a harmonized and united sense of living, are the work of Espinosa Yacht Design. Originally designed with a passion for speed in mind, as well as a strong connection with her external environment, she features a large aft deck with room alfresco dining and entertaining. Her expensive outdoor spaces include a multifunctional upper deck and sun deck, complete with jacuzzi, bar and workout stations. Inside, her modern and refined interior focus on premium materials, such as leather, suede, marble, onyx and walnut. For example, her onyx floors are heated for maximum comfort and tie in with the backlit onyx columns in the hallways, saloon and master suite. The main bedroom cabin has been elevated to the mezzanine level to offer her owners a better view of their surroundings. Able to accommodate up to 12 guests in 6 staterooms, making her ideal for chartering, she can also house a crew of 11.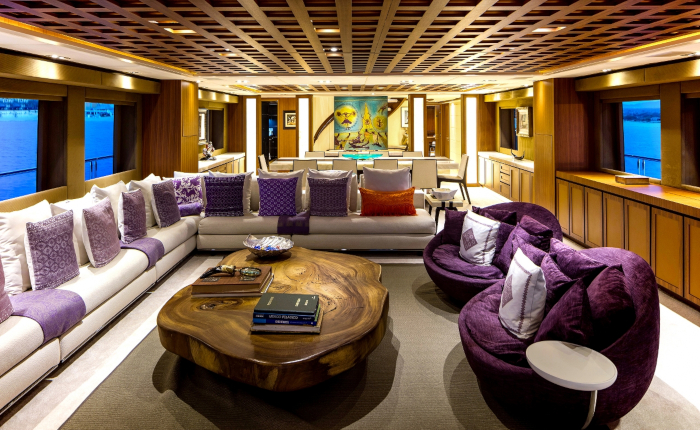 the interior of the yacht