As the latest and most innovative from Benetti Classic Supreme 132 range, she was built by a seasoned owner, with an impeccable eye for detail. Featuring state-of-the-art equipment next to an expansive array of guest facilities, entertainment systems and water toys, Happy Me is truly a unique charter yacht.
Her striking, timeless exterior design is the work of Stefano Righini, while her plush, ornate themed interiors are by Zuretti. Her 100-square meter sundeck is one of her many highlights, which features a unique indoor and outdoor dining area complete with BBQ - perfect for entertaining.
yacht for charter Happy Me
If you are the competitive type, her football table and pool table will keep you busy for hours. For those looking for kick back and relax while taking in the views of their surroundings, her sea lounge forward of the wheelhouse complete with a jacuzzi and luxurious seating area will become their second home.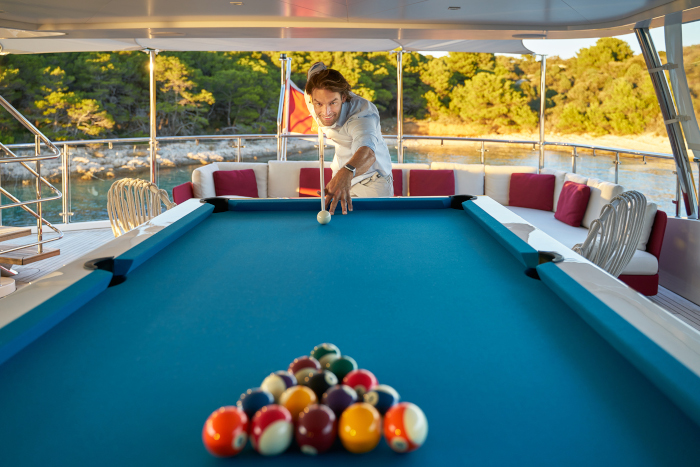 pool table on the yacht
If you need further unwinding, plan in a full-body massage in her private massage room. Alternatively, make full use of her gym area, which includes two treadmills, bicycles and weights - ideal for those looking to squeeze in a morning workout before setting off in search of adventure.
private massage room
Looking to enjoy some fun on the water? Happy Me's garage offers a wide variety of toys, from jet-skis to seas bobs and paddleboards. She also comes with fishing equipment as well as scuba diving gear, to get up close and personal with some marine life.
After a long day full of leisure and adventure, you can retire to her lounge, where you can enjoy watching the latest movies and series on her large TV screen while sipping on a cocktail made in the adjoining backlit bar.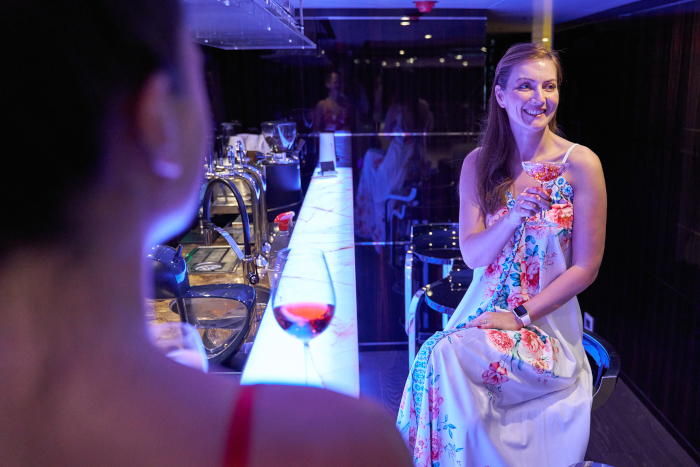 backlit bar
Music lovers fear not; there is also a karaoke machine on board, so you can entertain your guests late into the night if you should choose too. Her timeless and elegance interiors are beautifully furnished and offer extravagant seating on each floor to create a sophisticated and chic atmosphere.
Able to comfortably accommodate up to 11 guests in five luxury cabins, this includes a spacious master suite, two VIP cabins, one twin cabin, one convertible cabin with one Pullman bed. Her full-beam master suite comes with a private lounge area and two large side windows, offering stunning forward views. In addition, she is also capable of carrying a crew of up to seven to ensure a thoroughly relaxed and private luxury experience.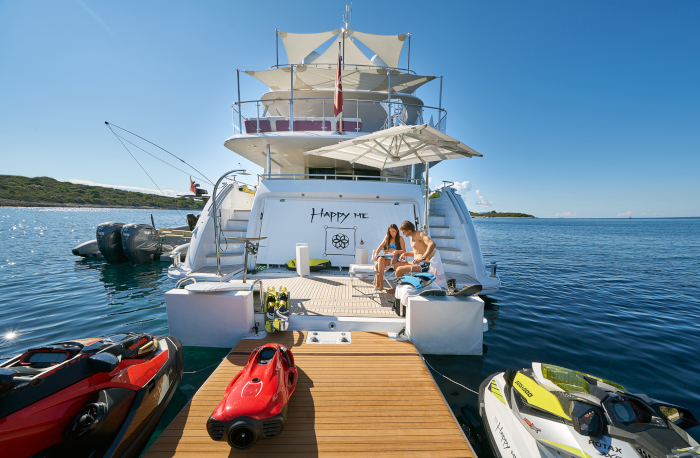 The star of her class, Happy Me offers the most fun and entertainment you can have on board of a charter yacht on the water this season.